Africa has become a new hot destination for Chinese tourists this summer, as the continent's cooler weather and more relaxed visa policies have boosted local tourism.
This summer, Chinese tourists who went to Kenya to watch the great migration of animals surged more than 100 percent over last summer, and those who traveled to Morocco soared more than 500 percent.
On average, Chinese tourists spend about 24,000 yuan ($3,597) on trips to South Africa and East Africa, and spend 15,000 yuan in North Africa, according to Ctrip.com, China's largest online travel agency.
Because of the opposite seasons in the Southern Hemisphere, and the plateau topography of eastern and southern Africa, Kenya, South Africa, Mauritius and other African countries are experiencing one of their coolest seasons, with the highest daytime temperatures falling below 30 C, which is suitable for traveling.
With an enduring heat wave in many regions of China, a large number of Chinese tourists prefer to spend their vacation in these cooler places.
Meanwhile, African countries' relaxed visa policies for Chinese travelers have encouraged more people to travel to the continent. For instance, Mauritius, Tunisia and Morocco offer visa-free travel to Chinese passport holders, while Egypt and Tanzania have a visa-on-arrival policy.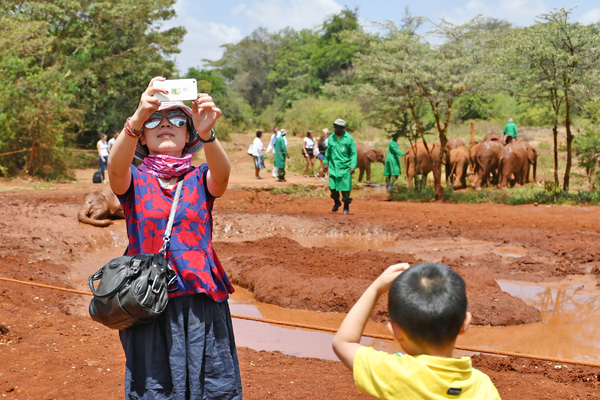 A Chinese tourist takes selfies with elephants in the background in Nairobi, Kenya, Feb 2, 2017. [Photo/Xinhua]
Besides, more direct flights between major and smaller Chinese cities and Africa have fueled the growth. In May, Ethiopian Airlines launched direct flights between Chengdu in Sichuan province and Addis Ababa, the capital of Ethiopia. In July, Air Leisure launched direct flights between Changsha in Hunan province and Aswan in Egypt.
In the first half of this year, Ctrip.com said that the number of flight ticket bookings to Mauritius was the highest among African countries, followed by the Egyptian capital of Cairo, and Casablanca in Morocco.
Dai Bin, director of the China Tourism Academy, said Chinese tourists are seeking more diverse experiences overseas, with more bookings to exotic destinations, reflecting their rising purchasing power and evolving tastes.
"The unique tourism resources in Africa are attracting Chinese tourists who are pursuing personalized and quality tour experiences."
Some attractions, such as following in the footsteps of the movie Casablanca in the Moroccan city of the same name, and watching the great migration of animals in Kenya, are especially appealing to Chinese tourists.
In addition, the Chinese movie Wolf Warriors 2, which is continuing its dominance at the domestic box office, is also playing a role, as some scenes in the film were shot in Africa. Ctrip said the popularity of the film is expected to encourage more Chinese people to visit Africa.
 China Daily